Bart Valentine: A Successful Mentor & Coach 
Shoot 360's Team Director a talented and free community resource
Coach Bart Valentine believes that it takes three simple principles to build a successful coaching career: teach skill based fundamentals, insert life skills whenever possible and have fun.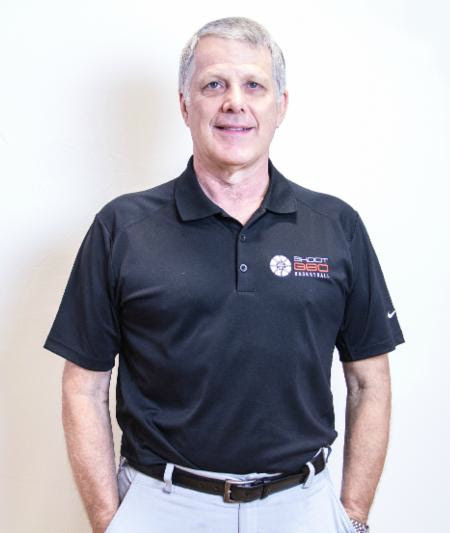 His career achievements show that Valentine is on to something: he reestablished the men's basketball program at Warner Pacific College in 1999, and took nine teams to the NAIA DII National Tournament during his 12 year tenure as head coach. Valentine's experience as head coach also includes 18 years at the high school level. As a first year coach, he led the Colton Vikings to their first state tournament in 15 years, advancing all the way the state championship game. Later he was hired as a math teacher and the head boys' basketball coach at West Linn High School. Valentine built the Lions into a large school power program, making a run of 11 straight state tournament appearances. The high point of that string culminated in a 1997 state championship win over Sheldon High School. Also during his 12 years at West Linn, Coach Valentine built one of the largest youth basketball programs in the state.
The difference between coaching boy's high school and college men's basketball is surprising small. "Both levels require the same fundamentals to win. As far a teaching the game, it's very similar. The bottom line is if you are not sound with skills, no matter what level, you will be beat." Valentine found a particular purpose coaching at the college level. Opportunities to teach life character lessons abounded as his players emerged into adulthood and made critical life decisions. He remains close to many, and in fact, has officiated at the weddings of four former players.
One of the best pieces of advice Valentine would give to coaches hoping to develop strong programs is this: Early in the program, spend a lot of time developing organization, administration and staffing. Putting the right people in key positions will help things run smoothly. Also, articulate your vision and sell it to those on your "team." Not just the players, but all those around you who have a vested interest in program. "When coaching high school or younger, it is important to remember that the program is much broader than the view of individual parents," Valentine said. "The program has to benefit the whole, not just a few individuals."
Final bits of advice when faced with a large rebuilding job? "Start with the little pieces and knock off one at a time as you work towards your long range goal. And quit looking at obstacles. Be a leader who finds ways to step over obstacles and turns them into opportunities for growth."
New 10-Part Blog Series: Part 1
Coach Valentine on how to build a successful High School Basketball Program
Shoot 360 Team Director Bart Valentine has started a blog series designed specifically for coaches, allowing him to share his expertise. The blog will begin with a series of ten articles covering the elements of building a successful and sustainable high school basketball program, however, there will be practical posts for basketball coaches, whether they work with youth or with high school teams.
Part 1: Title of First Blog
Haven't tried Shoot 360 yet?
Shoot 360 was founded as the world's most advanced basketball training facility and has implemented the most advanced technologies available for basketball shooting, ball handling, and performance training development. We are focused on helping players develop every aspect of their game, from the foundational player to the elite athlete. Our goal is to guide individual basketball players to reach their maximum potential grounded in fundamentals, repetition and perfect practice standards. Shoot 360 currently owns and operates two world class facilities in the Pacific Northwest, one in Beaverton, OR and the other in Vancouver, WA.